Sold to Stud
Maximus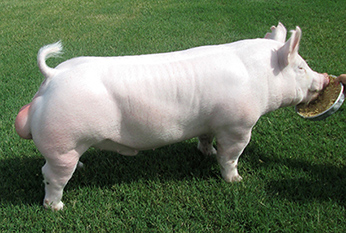 Untouchable 159-2 x Bullet Proof
$230,000 Record Breaking Reserve Champion York Boar 2014 STC
Untouchable 153-6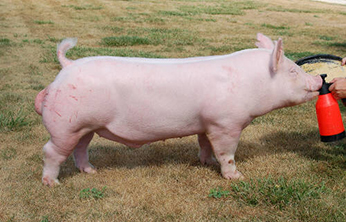 (Final Drive x Checkmate(DIVA)-
Supreme Champion Gilt 2011 San Antonio)
Sold to Top Cut Genetics: Call Daniel at: 765-730-3960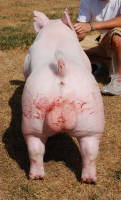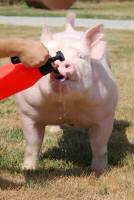 SLUG 267-5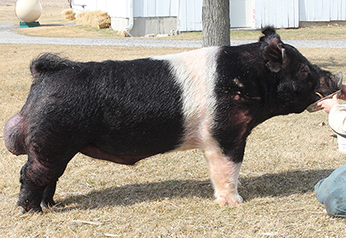 Shockwave (Main Man Son) x Bear (296-3)
NEW: Herd Sire out of 296-3's 2nd litter.
1/2 Brother to Maverick & 28 Litter Boars.
Thank you to Tom Moyer and Family along with the Genetic Edge Boar Stud Crew for stepping into our herd boar pens and making a big investment into our program! We think what Slug as well as Slug Fest (first son, sold to Moyer as well) can do for the masses of sows out there can be OFF THE CHARTS!

SLUG FEST 22-6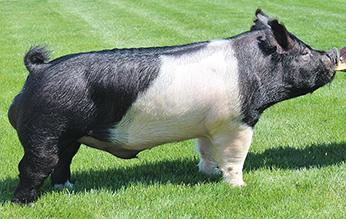 Slug x Super Monster (SAME MOTHER AS VISIONARY)
Another very big, very sincere Thanks to Moyer/Genetic Edge Team for the investment and their belief in our breeding program here! It was a really nice day here around the farm getting this pair of true breeding pieces sold to a place where they can do great things!
can be OFF THE CHARTS!

HORIZON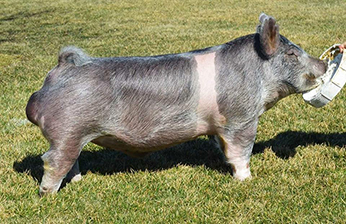 (Red Sky x Maverick)
We owe another big Thank you to the Laird family their boar stud business Premium Blend for yet another off the farm purchase of one tremendous breeding hog here. We have said from the time we weaned this one that he might offer as much rib shape, feature, and foot and bone as any of the cool blue belts we'd seen. We're very humbled and honored to have him standing at Premium Blend.

NO WAY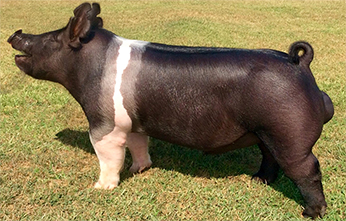 VISIONARY X BEAR
Stress Carrier
First time I laid eyes on this one i thought no way… no way a boar could possess a front end this special and still drive with as much power front to rear as this one does! This one sets the new standard for what is possible! Tall and jet fronted with a super cool, yet stout and square head and neck! This is the front end you need to dominate in today's show ring! He is built so well from the ground up. Strong pasterns, even toes, and terrific angularity make for a rock solid foundation to support the terrific mass no way has! He has great turn to his rib and displays tremendous shape and spread across his top while carrying that power all the way back into his explosive hams. No way seals the deal with his soundness and ability to reach and drive off of all four feet. This is power and pretty at its finest. This one is special.
Sold to Meeker Show Pigs
Contact Jeff at: 309-657-5521 to order semen
SAVAGE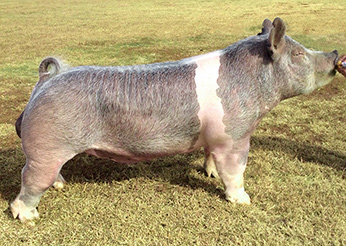 BEYOND X KILLER INSTINCT
Stress Negative
This one is so different! He is built to change things for the better! This boar is extremely flexible and athletically built! He will moderate and stouten up any sow out there yet he will make them taller fronted and strong footed! We love the way this one ties his square, muscular hip so comfortably into his rear leg set! Savage gets his name from his appetite and ability to put away food! This one walked off the trailer ready to eat! Offspring that possess this ability to consume feed and tack on mass continually rise to the top! Add that ability to mass with the elevation and extension through his front end and we feel this blue belted boar has what it takes to generate champion caliber offspring! Sold to Meeker Show Pigs
Contact Jeff at: 309-657-5521 to order semen
PRIME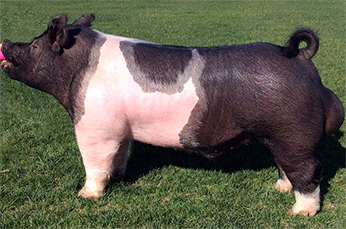 Bone Thug x Bear
Stress Negative
This 280 litter boar was a fun one to watch grow and mature! As a 50-70# pig he was one of the most impressive show prospects we've seen!!! We knew he had to stay a boar and become a possible herd boar for us! We would call Prime incredible in his true rib shape! He is extremely heavy structured! He's got great extension up front and yet he reads moderate and with ideal barrow length of body!!! We plan to use this boar. We actually think he can be bred to our Creature influenced sows and work like a charm! As he will help down-size them, and help at attractiveness at the same time!!!
Sold to Meeker Show Pigs
Contact Jeff at: 309-657-5521 to order semen
When you are selecting the breed stock to produce next year's pig crop remember this: all of the fancy feeds, high powered fit jobs, enhanced photos, changed birth dates and big price tags will not make them better -- only their true genetic value will.